Today, most people want to have a bangs haircut, but there are lot of bangs haircut available in the market today.
The bangs hair cut will be varied based on the hair type, texture, importantly face shape. When it comes to the face shape, lists of shapes are there such as round, oval, square face, long faces, and hear shaped face.
You could not make same bangs haircut for all the type of shape because it will not suitable for everyone.
Today, most people looking for haircuts for round face, if you are the person want to know about bangs cuts for round shape, and then you are in the right place.
Here are some right and the best bangs for a round face, so continue reading to know more about it.
Round faces are come up with wide cheeks and round shape. For these face shapes, straight bangs will be perfectly suitable for them.
Today, there are lot of bangs cuts are available only for round faces. So, get consultation from professional hair dressers, and have a bangs for round faces as per your wish.
Textured Bangs
The textured bangs with a choppy texture that gives amazing look for round faces. The texture is an important trick to diffuse the roundness, and the length, because it's hitting well above the eye area, elongates face instead of widening it.
When you are pushing the bangs to one side, it creates the illusion of height. Therefore, choose the right bangs for your face shape.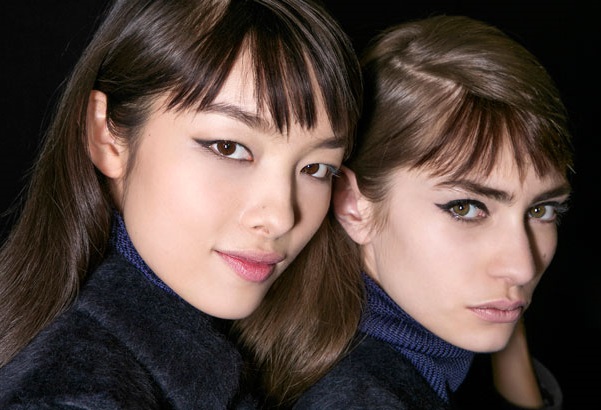 Side-swept bangs
Side-swept bangs create a strong diagonal line that really lengthens a round face. This is one of the most popular bang cuts among the people.
You can prefer this cut, if you want to show off a lot of the forehead, it gives even more dramatic look. In this cut, start to hit at the eyelash point before cascading down diagonally to end just below the cheekbones.
Graphic bangs
Most hair experts will tell you that blunt, straight bangs are good for round faces, but along with that graphic bang also give you stunning look.
In this cut, bangs are cut above the eyebrows; this opens up and lengthens the face. Second, the bangs are not just straight across and longer pieces on the sides, which gives a slimming effect. Finally, it is a great way to counter the softness of a round shape.